This thangka signed by Shashi and Chakra is complete and available for sale.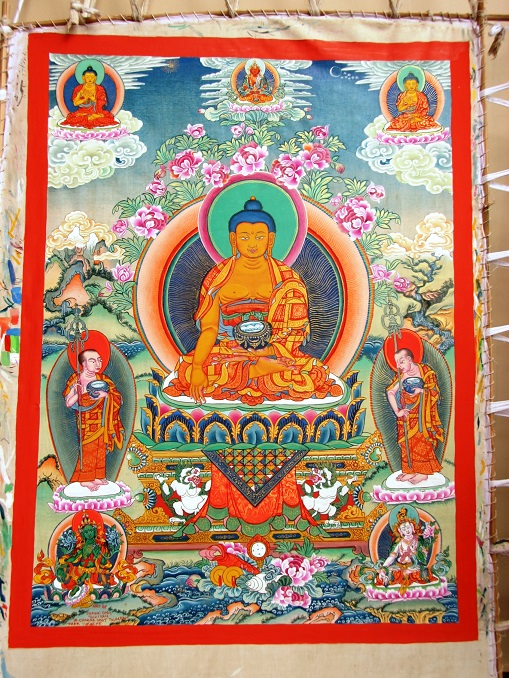 The central figure is Sakyamuni Buddha, with a Buddha of the past, Amitayus and the Buddha of the future, looking down from above.
Sakyamuni's two main disciples, Sariputra and Moggallāna stand either side of him, while below are the green and white manifestations of Tara.
The flowers in bud, bloom and over flowering represent the three times, past, present and future.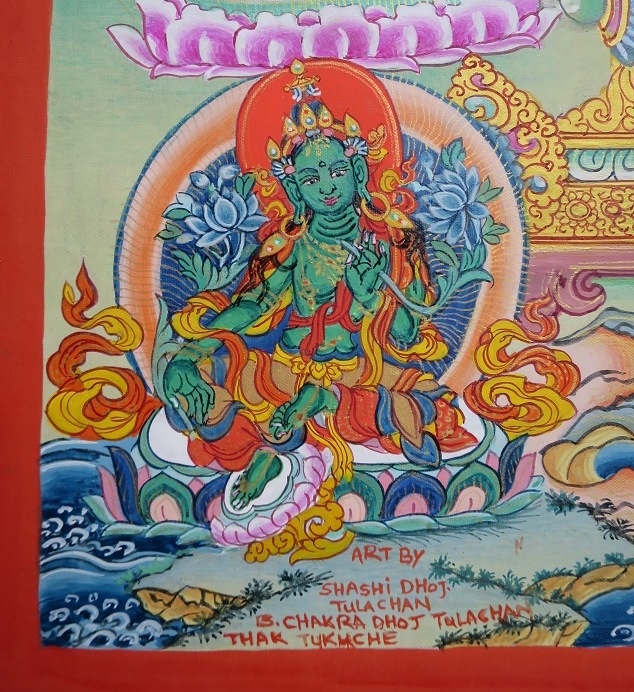 An aspiration prayer for all beings to attain enlightenment from Tsongkhapa's "Songs of the Spiritual Experience"
ཕུན་ཚོགས་་དགེ་ལེགས་བྱེ་བས་བསྐྲུན་པའི་སྐུ། མཐའ་ཡས་འགྲོ་བའི་རི་བ་སྐོང་བའི་གསུང་། མ་ལུས་ཤེས་བྱ་ཇི་བཞིན་གཟིགས་པའི་ཐུགས། ཤཱཀྱའི་གཙོ་བོ་དེལ་གུས་ཕྱག་འཚལ།
ཞེས་བསྟོན་ཕྱག་སྔོན་དུ་བཏང་ནས། རྒྱལ་བསྟན་དར་ཞིང་འགྲོ་རྣམས་སྐྱིད་པ། རྒྱལ་ཁམས་བདེ་ཞིང་ལོ་ཕྱུགས་ལེགས་པ།
མཐར་ཐུག་མཁའ་ཁྱབ་ཀྱི་སེམས་ཅན་ཐམས་ཅད་སངས་རྒྱས་ཀྱི་གོ་འཕང་འཐོབ་པ་སོགས་རང་གཞན་གྱི་འཕྲལ་ཕུགས་ཀྱི་དོན་ཆེན་རྣམས་ཡོངས་སུ་འགྲུབ་པའི་སྨོན་ལམ་བཟང་པོས་མཚམས་སྦྱོར་བགྱིའོ།
པཎ་ཆེན་ཨེར་ཏི་ནིས།