Recognising the wider importance of Chhairo Gompa in establishing the Nyngma sect in Thak, on the occasion of the 12 yearly Lha Fewa, held in 2049 BS (Vikram Samvat) (1992 CE) a delegation from Chhairo visited Subba Tek Narsingh Bhattachan, a wealthy local family and long time patrons, from Tukuche to request assistance in restoring the gompa.
Inspired by their forefathers accounts of Tukuche and Chhairo in their former glory and strong architectural and religious heritage, and encouraged by Sashi Dhoj Tulachan, their religious leader, some of the younger generation were interested to repair and conserve the gompa complex, revitalising the community.
The Chhairo Reconstruction and Maintenance Committee was formed which proceeded to collect information about the legal status of the gompa structures and property as well as determine the extent of the works that would be required.
In 2045 BS (approx. 1997/98) funds had been raised and technical conservation advice was sought, enabling engagement of an architectural firm to undertake a preliminary survey and develop the reconstruction scope and estimate.
From 2004/5, the reconstruction was supported by RWI, previously known as CRTP who raised funds and sent volunteers as well as engaging local architect JSA to design and supervise the works.
The JSA involvement ended in 2014. The Tulachan brothers continued with RWI funding to replace the old kitchen which forms the Southern part of the courtyard. This two storey block was completed in 2016. Handover to the community, in the presence of the Battachan family occurred in January 2017.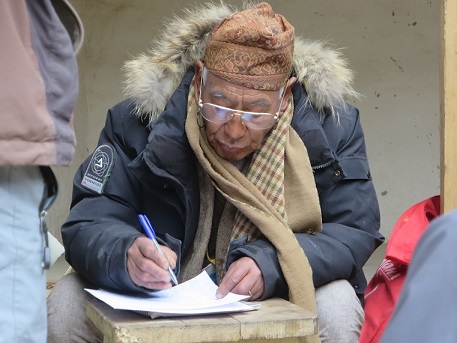 Witnessing the handover.