Visit us
Sambha Gompa and Chhairo Gompas are located in lower Mustang, Nepal which borders Tibet to the north and on the Annapurna Circuit along the Thak Khola, or the Kali Gandaki, the home of the Thakali people.
From Kathmandu either fly (30-45 mins) or take the bus to Pokhara (5-7 hours). There are daily 'tourist' class buses as well as numerous local minibus taxis which leave when full.
Once in Pokhara you can fly to Jomsom (45-60 mins) or again take the bus.
Travel to Thak Khola by plane;
The nearest airport is at the district headquarters in Jomsom, which is north of Thak Khola. From Jomsom you can catch a local bus south to Marpha (about 20 mins) or Tukuche (45mins). Or you can walk along the river (1-2 hrs to Marpha) and spend an afternoon before walking to Tukuche (1.5 hrs). There is plenty of accommodation to choose from in Jomsom and Marpha, as it is a popular starting point for trekkers. In Tukuche there are only 2 hotels, one targeted at foreigners and one for locals.
 Travel to Thak Khola by bus;
There are both local and "tourist" buses from Pokhara and Kathmandu.
The bus from Kathmandu is an 'overnight' bus and not recommended for your first visit as you will miss all the scenery. Local buses from Pokhara may need you to change at Beni and then at Ghasa. There are small hotels at both locations. The "tourist/ green plate" bus goes all the way to Jomsom from Pokhara and you just ask for a ticket as far as Tukuche or Marpha respectively. Patience and tenacity may be useful if you chose to take the bus without assistance from a Nepali speaker! But the bus journey rewards you with mountain views and changing geology as you follow the Kali Gandaki river.
To reach Sambha gompa;
Sambha gompa is in Tukuche village. It backs onto the highway with it's entrance in the high school playing field. There are stone steps to climb over the wall from the highway just south of the gompa. Push the door, it may just be closed against the wind. If it's locked ask around for the caretaker. Note that a lot of the students are from other villages, so better chance asking an adult.
To reach Chhairo;  You can walk from either Tukuche or Marpha. In both cases you need to cross a suspension footbridge to the east bank. Although associated with Chhairo village, it is nearer to Marpha, nestled amongst the trees next to the more visible Namgyaling / Tserok Tibetan Refugee Camp.
For more info on getting around see http://wikitravel.org/en/Annapurna.
Places to Stay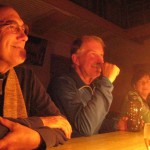 The main tourist guest house in Tukuche is the Dutch Bakery aka High Plains Inn. It is run by one of Shashi and Cakra's nieces and her Dutch husband. Rooms may be full if big cycling or motorbiking groups are in. There is a simpler local hotel just down the road.
RWI trips volunteering on Chhairo Gompa stayed at Rita's Guest House south of Marpha and north of the gompa for a number of years. Rita and her husband Buddhiman, keep a friendly and tidy guesthouse with solar hot water and a rooftop laundry line.
There are also a number of hotels in Marpha, 10-15 mins walk from the gompa. The Namgyaling Tibetan Refugee camp next door to the gompa also has a basic guesthouse.