During the summer Shashi and Chakra have been busy painting in Kathmandu, surviving the monsoon.
This thangka of Amitabha's western paradise, Sukhavati (བདེ་བ་ཅན་ཞིང་སྒྲུབ) was commissioned by an overseas collector, but is now available to buy.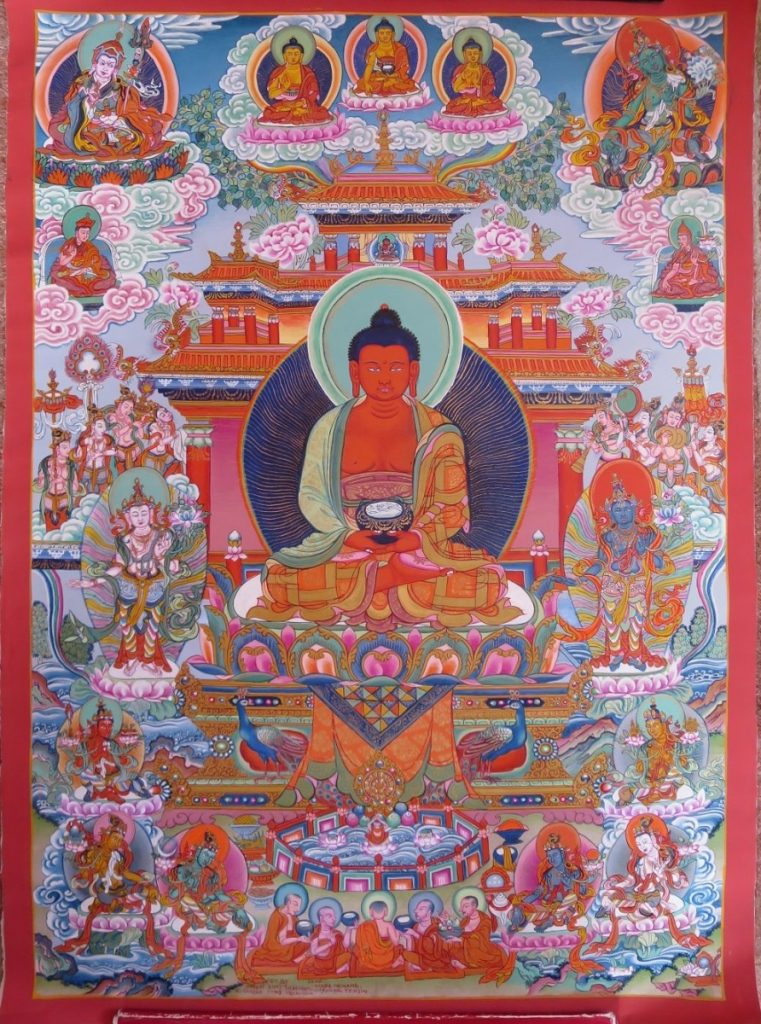 If you are interested to see more detail or already know that you love it, please get in touch.
Having spent many months on it, the brothers are keen to send it to a good home.
This is a unique opportunity to have some of Shashi's art to gaze at every day!
Thangka details
22×31″ on Shashi and Chakra's handmade canvas – cow glue and stone white layers applied to cotton.
The colours are stone pigments from Tibet, China and Japan painted in the སྨན་བྲིས་ (men di) style.
The images are (from top to bottom, left to right):
Guru Rinpoche, Future Buddha, Present Buddha, Past Buddha, Green Tara
Karma Chakmé (aka Raga Asé), Tertön Mingyur Dorjé
Devas, Amitabha Buddha emitting a circle of rainbows, Devas
Chenrezig, Vajrapani
Manjushri Ghosa, Maitreya
Samantabhadra, Akasagarbha
Ksitigarbha, Sarvanivaranaviskhambin
sons of the bodhisattvas
The mantras for each deity have been painted on the back, endowing the thangka with their presence.